President's Welcome Message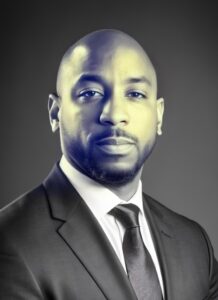 Greetings and Power to the People
Welcome to the International Website of Groove Phi Groove, Social Fellowship Incorporated!
It is my honor and privilege to address you as the 12th International President. To the Fellowmen of Groove, I am here to serve you. To our Sisters of Swing Phi Swing, I am here to support you. To the visitors of this website, have a seat at our table.
I encourage you to delve into the world of Groove Phi Groove by familiarizing yourself with our mission, our purpose, and our initiatives. We are a brotherhood of conscious men. We are husbands, fathers, sons, and community leaders. We see nothing complicated about striving to empower our people. We seek to advance community life and to enhance the futures of individuals through service. Our members are humbled and feel blessed to serve others, as it is the historical root of our Fellowship. No matter religion you subscribe to, we must remain aware of what Surah I-Baqarah verse 2:269 or Luke 12:48 states, "To whom much is given, much is required." We are required to use our blessings to bestow blessings and opportunities on others. I am asking every brother of Groove to take a moment to determine how you, individually and we collectively, can fulfill our mission and live our purpose. As a fellowship, we remain excited about the prospects of having a greater impact on our communities and the world as an international organization. We are poised for Greatness! We are poised to help those left outside of human prosperity.
The vision of this administration seeks to improve the organizational and collegiate experiences of our undergraduate members; those experiences must lead to a life of continuous work in Groove and service to others beyond the undergraduate years. In our 58 years of existence, we have remained vested in active community involvement and in fostering connections with young people (and collegiate students) by providing opportunities to engage in productive activities that build character and perspective. We will make significant strides to include our younger fellowmen in the development of our programmatic initiatives.
We have a great deal of knowledge and wisdom in our elders. I challenge our elders to utilize their shared experiences to teach, mold, and guide our younger members. We must ensure their success by optimizing their potential.  We have a great deal of experience and competence in our organization, and I ask that each of our Fellowmen bring their set of specialized skills to bear for the benefit Groove and the broader community.
Alumni brothers, ".  to keep alive in the graduate interest in college life and the progressive movement emanating therefrom" – reflect on the challenges you faced throughout your maturation process into young adulthood. Please, think deeply about the burdens faced by our younger brothers in this contemporary and ever-evolving world.
Let us advance the idea of "Brothers Building Brothers" by taking a more active role in developing and guiding our undergraduate members; as they are our organization's most valuable resource.
Investing in our members is essential to encourage them to embrace our traditions, initiatives, and brotherhood. This year we will continue to focus on our community service and philanthropic roots. Our organization was founded on the principles of service, honor, and integrity. We will place particular emphasis on our Groove Leadership Academy mentorship initiative. We are challenged to provide support, encouragement, and wisdom to the young men participating in our programs. More than ever, the Groove Leadership Academy is necessary to train, uplift, and develop the next generation of leadership in our communities. The result of cultivating these young minds will be the creation of new leaders who are focused on making impactful contributions to society.
We are the few, but the chosen.
In Fellowship, may we Groove on