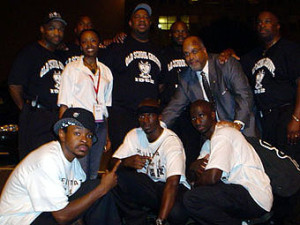 XXXXXXX was officially chartered on [DATE] during the National Conclave in [LOCATION]. The chapter started as a vision of [NUMBER] brothers, actively involved in community services in [LOCATION].
!Their distinct goals are to volunteer, galvanize efforts and promote the mission of Groove Phi Groove, S.F.I in the [REGION NAME] Regional. On [DATE} they came together and had their first meeting to become a recognized chapter of Groove Phi Groove S.F.I.
!The Fellowmen have sustained their active chapter process for [NUMBER] years and completed several volunteer projects.  They maintain a regular meeting schedule and following all financial, technical and fellowship rules to maintain an active status as recognized by the National Office.
Charter Members
Active Chapter Members:
Volunteer Efforts
Examples: Back-to-School Supplies (2014, 2015); Thanksgiving, Christmas Drives for Fulton Co. DFACS (2014); AIDS Walk Atlanta (2014); Adopt a Highway (Greenville, SC – 2015); Toiletries for Tots (2015) Fulton Leadership Academy Mentoring Program; Metro Atlanta Inner-City Youth Tennis Program. ($1500 raised); Book Donations (2014, 2015); Printer, Copy Paper Donations (2014, 2015)