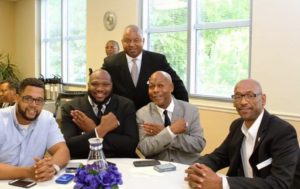 South Georgia Graduate, a newly established chapter, was officially chartered July 26, 2014 during the National Conclave in Atlantic City, N.J. The chapter started as a vision of four young brothers, actively involved in community services in metro Atlanta. The brothers are general members living primarily on Atlanta's south side, and as far south as Macon.
!Their distinct goals were to volunteer, galvanize efforts and promote the mission of Groove Phi Groove, S.F.I in the South Atlantic Regional. On January 20, 2014, MLK Day, they came together and had their first meeting to become a recognized chapter of Groove Phi Groove S.F.I.
!The gentlemen persevered through the chartering process, completing a myriad of volunteer projects while meticulously maintaining a strict meeting schedule and following all financial, technical and fellowship rules in their quest to become an official, newly formed, recognized chapter by the National offices.
Charter Members
Fl. Shannor Huff
Fl. Calvin Monroe
Fl. Jesse Jones
Fl. Dauntre Walker
Additional Chapter Members:
Fl. Jonathon Hart
Fl. Devaughn Rivers
Fl. Greg Hilliard
Fl. Gerald Walker
Fl. Olayele Olaniyi
Fl. Gerald Walker
Fl. Donald Opie
Fl. Greg Hilliard
Fl. Tobias McCarter
Fl. Reynard Burgess
Fl. Tramaine Basley
Fl. Jermaine Basley
Fl. Jonathan Hart
Fl. Percy Flemming
Fl. DeVaughn River
Fl. Mark Kerr
Volunteer Efforts
April 3rd – U.S. Open Raffle for inner city youth. $1200 raised;
May 16th, "Adopt a Highway" w/Greenville Grad (Greenville, SC)
July 18th, Joseph D. McGhee Tennis Center Tennis Center Volunteer Effort; Back to School Supplies
Aug. 1st, Fulton County DFCS "Back to School" Volunteer Effort (Fairburn Rd.)
Aug. 4th, Jonathan Hart donates additional book bags and school supplies to DFCS
Aug. 7th, Volunteer with local marketer "GasSouth" to prepare sandwiches/lunches for needy children on first day of school
Aug. 15th, College Park "CityFest Celebration" Volunteer Effort – 2016 Calendar Art Production
Aug. 15th, College Park "CityFest Celebration" Mentoring 4P – 8P
Aug 29th Jeffersonville Elementary (Twiggs county) Painting/mural
Sept. 19th – College Park's Ward IV Community Celebration Volunteer Effort
Sept. 26th – Alzheimer's Walk Volunteer Effort @ Atlantic Station (Atlanta, GA)
Oct 1st Twiggs County High School Mascot (Logo)
Oct. 18th Atlanta AIDS Walk
Saturday, Dec.12, 2015 Community Service – Groove & Swing Style! Wrapping Christmas presents for the Fulton County Department of Family and Children's Services (DFCS)
Dec 10th Christmas Neighborhood Viewing (Bibb County) The Grinch Sculpture
Dec. 23rd Arrowhead Senior Rehabilitation Center, Clayton County, GA – Toiletries Donation, Dinner & Party for Residents, Christmas Carols
Feb. 12, 2016 Fulton Leadership Academy Volunteer Effort (Teachers, Students, Fruit snacks, candy, coffee mugs)
Fulton Leadership Academy – Teacher Appreciation
Feb. 12, 2016 Fulton Leadership Academy – Book Drive
Feb. 12, 2016 Fulton Leadership Academy – Mentoring Session (8:00a – 12:30a)
March 12, 2016 YMCA (Save Our Student)- Community Service (11:00am- 3:00pm)
April 3, 2016 & April 17, 2016 Feeding Homeless (Hurt Park, Downtown Atlanta)
April 8, 2016 U.S. Open Raffle & Sponsorship for inner city youth tennis players, Raised $1200 (Déjà vu 2, Atlanta)
May 14. 2016 Clothes donation to Riverwoods Behavioral Health System
May 20, 2016 "Toiletries for Tots" for Fulton County DFCS
June 16, 2016 Donation (20 boxes of cookie dough) to the Tifton Police/Fire Department
July 25, 2016 Back to School Drive, Open Mic Memorial, Games Day at Joseph D. McGhee Center for the youth and the Fulton County Department of Family and Children's Services in the Metro Atlanta
August 22, 2016 Clothes Donation to Arrowhead Rehabilitation Center, Clayton, GA
August 26-31, 2016 Escorted Metro Atlanta's inner city youth tennis players to U.S. Open
August 27, 2016 Support and donate to Lithonia High School's Jr. ROTC Softball tournament
September 10, 2016 Promote voting for the U.S. election at the "White Water" Classic (Phenix City, Alabama)
September 18, 2016 Feeding Homeless and donating toiletries to them (Hurt Park, Downtown Atlanta)