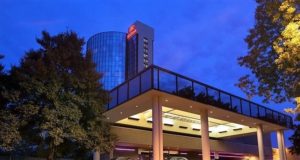 The conference location for the Groove Phi Groove Social Fellowship Inc. 2017 National Conclave is Memphis, Tennessee.   Memphis, TN is the Home of the Blues and considered by many to be the birthplace of Rock'n Roll.
The 2017 National Conclave is scheduled for July 19th to July 23rd. Preferred hotel accommodations and group rates for conclave officers, delegates, and participating members are negotiated at the Hilton Memphis.  The Hilton Memphis is located at 939 Ridge Lake Boulevard, Memphis, Tennessee 38120.  Room reservations can be made on the Hilton Memphis group page for the organization.
Fellowmen that reserved a room directly at the Hilton Memphis hotel need to ensure that they identified themselves as members to receive that negotiated rate.  If there are questions in this regard contact Fellowman Leonard Randolf by email at vpr43@aol.com.
To register and make a payment, use the online Registration and Ticket Area options below by entering a ticket quantity and clicking on the REGISTER NOW  button.  The first four options are package deals. Complete Ticket Packages are available for Graduate and Undergraduate members.  Also, two person package options are available for a Graduate or Undergraduate member.   Typically, a member would select one of the two person package options if they plan to bring a spouse or significant other.
The remaining online options (Delegate Meeting, Neo-Soul Jazz Party, The Groove Fund Scholarship Luncheon, Prayer Breakfast, Civil Rights Museum Tour and South Atlantic Region All White Party) are purchased as Ala Carte pricing items.  Members can enter a ticket quantity for each event that they want to attend, and click on the REGISTER NOW button.
Admittance to the delegates meeting is restricted to active financial members of Groove Phi Groove Social Fellowship Incorporated.  Delegates may wear semi-casual attire to the National Delegates meetings (e.g., slacks, shoes, and open collar shirts). No athletic wear is allowed.
For members that want to download related event material for further review, click on the buttons below. 
Online Registration and Ticket Area
Neo Soul Jazz Party


July 20, 2017 - February 7, 4035




9:00 pm - 1:00 am