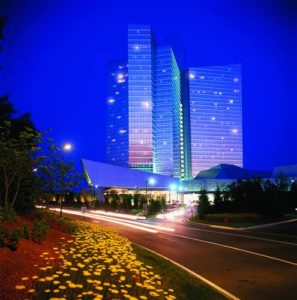 The conference location for the 2018 Groove Phi Groove Social Fellowship Inc. National Conclave is the Mohegan Sun Resort and Casino located in Uncasville, Connecticut.  This event is scheduled for Tuesday, July 17th to Saturday, July 21st.
Preferred hotel accommodations and group rates for conclave officers, delegates, and participating members were negotiated with the Mohegan Sun by the Bridgeport & New Haven Graduate Chapter.  The Mohegan Sun is located at 1 Mohegan Sun Boulevard, Uncasville, CT 06382.  Room reservations can be made on the Bridgeport & New Haven Graduate Chapter's website.
Ticket packages offered by the National office are available below.  The National office ticket package includes admission to the National delegates meeting, The Groove Fund & SHE Foundation Breakfast, National Inter-Faith Non-Denominational Prayer Breakfast and, The Groove Fund & SHE Foundation Day Party only.  Each of these events are available to be purchased Ala Carte below.  Further, you can purchase an Ala Carte ticket for the Comedy show.
To register and make payment to attend events sponsored by the National office, use the online Registration and Ticket Area below.   Members can select an option or options and enter a ticket quantity for each event that they want to attend.   To proceed to checkout, click on REGISTER NOW.
In addition, our regional hosts plan to sponsor several social events.  These events can be purchased via a social package or Ala Carte from the Bridgeport & New Haven Pay-Pal service by clicking on options that appear in the sidebar.
Admittance to the delegates meeting is restricted to active financial members of Groove Phi Groove Social Fellowship Incorporated.  Delegates may wear semi-casual attire to the National Delegates meetings (e.g., slacks, shoes, and open collar shirts). No athletic wear is allowed.
Members can click on a button below to download the conclave registration form, a day-to-day event itinerary and the delegates meeting agenda.
Conclave Registration Form  Conclave Itinerary  Delegates Meeting Agenda
Online Registration and Ticket Area
Delegates meeting


July 18, 2018




10:00 am - 12:00 pm

Undergraduate Development Forum


July 18, 2018




1:00 pm - 10:20 pm

Community Service Forum


July 18, 2018 - July 19, 2018




3:00 pm - 4:30 pm

Welcome Reception


July 18, 2018 - July 19, 2018




6:00 pm - 8:00 pm

Comedy Show


July 18, 2018




8:00 pm - 9:30 pm


- Where: Comix Club Who: Sherrod Smalls and Friends (Open Bar)
The Groove Fund & The SHE Foundation Breakfast


July 19, 2018




8:00 am - 10:00 am

The Groove & Swing Youth Empowerment Summit


July 19, 2018




10:00 am - 4:00 pm

The Groove Lifetime Member's Reception


July 19, 2018




5:30 pm - 7:00 pm

Groove National Open Breakfast


July 20, 2018




7:30 am - 9:00 am

Groove Marketing Forum


July 20, 2018




9:30 am - 11:00 am

Groove Fundraising Forum


July 20, 2018




1:00 pm - 2:30 pm

The Groove Fund & The SHE Foundation Day Party


July 20, 2018




4:00 pm - 7:00 pm

Interfaith Non Denomination Prayer Breakfast


July 21, 2018




8:30 am - 11:00 am