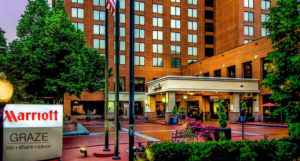 You can make your reservation at the Marriott Winston-Salem directly by contacting the hotel at 1-877-888-98762 and provide them the reservation code: Groove Phi Groove.
The Marriott Winston-Salem hotel is located at 425 N Cherry St, Winston-Salem, NC 27101.  Conclave 2019 is scheduled for Wednesday, March 27, 2019 to Sunday, March 31, 2019.
The room rate: $139.00 per night plus a 12.75% local & state tax charge.  A one night deposit is charged at the time of reservation.  The last day to reserve is Monday. February 25, 2019.
To make your reservation with the Marriott Winston-Salem Hotel online and obtain additional hotel information, click on the button below:
To make a room reservation for Conclave 2019 at the Embassy Suites Winston-Salem, you must log on the website to access the Members Only area.