JCSU Bull Chapter 50th Anniversary Celebration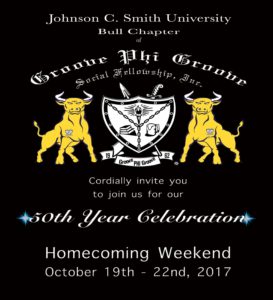 Starting on Thursday, October 19, 2017, the Fellowmen of Bull Chapter plan to recognize the 50th Anniversary of the establishment of their undergraduate chapter on the campus of Johnson C. Smith University with a full weekend of events.
The main event is a semi-formal reunion party and celebration to be held on Friday, October 20, 2017, at the Oasis Shrine, located at  604 Doug Mayes Place, Charlotte, NC 28269.  Other weekend events to include a Homecoming football game tailgate, a golf tournament, receptions, and a Sunday farewell brunch.
Accommodations for these activities can be made at the Embassy Suites, located at 4800 South Tryon Street, Charlotte, NC 28217 or the JCSU host hotel Sheraton, located at 3315 Scott Futrell Dr. Charlotte, NC 28208.  Group rates are available at both locations.
You can download the complete itinerary and a registration form for the weekend of events by clicking on the buttons below.